Apple released a public beta of Safari 4 for both OS X and Windows on Tuesday, declaring that this new version is loaded with more than 150 features, many of them new. Safari 4 represents quite a technical leap over the previous version of the browser. So which of those new features are you most likely to find interesting, useful, or possibly even a bit disruptive? (If you're curious as to why some of these features were added, Jason Snell shares his thoughts on that subject.)
Built for speed
The big behind-the-scenes news is the introduction of the Nitro Engine, a super-fast JavaScript engine that executes JavaScript up to 30 times faster than Internet Explorer 7, and three times faster than Firefox 3. To get a sense of the speed increase, I ran a quick test using the SunSpider JavaScript Benchmark on our 2.66GHz iMac with 2GB of RAM. I ran SunSpider in Safari 3, Safari 4 Beta, and Firefox 3.0.6, to get a sense of the speed differences amongst the browsers.
The results were dramatic—Safari 4 completed the tests in 757ms, versus 2970ms for Safari 3 and 3028ms for Firefox 3.0.6. I also tested Firefox 3.1, currently in beta, which has its own advanced JavaScript engine. It was notably faster than Firefox 3.0.6, coming in at 1419ms, but still well behind Safari 4.
Outside of the JavaScript engine, Safari 4 seems to load pages very quickly, though page loading times on a fast network are quick enough that it's very hard to hand-time any differences in loading speed. Still, Safari 4 feels quite peppy on even the heaviest of sites. It also passes the Acid3 test, which checks how well a Web browser follows certain Web standards, with a perfect score.
Safari 4 also adds some bleeding-edge web technologies such as HTML 5's media support (making it easier to add audio and video to Web sites) and offline support (so developers can write web apps that run even without an internet connection); CSS effects (which enable animations, like this example, without a lot of complex code or Flash); and speculative loading (which loads the files required to view a web page before you need them).
Top Sites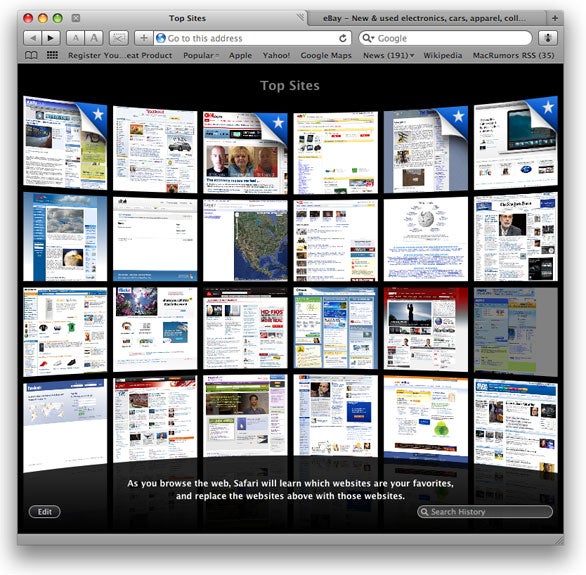 One of the more noticeable changes in Safari 4 is the new Top Sites page, which loads by default when you launch Safari. (You can disable the auto-loading feature in Safari's preferences if you don't like it.) Much like the Speed Dial feature in Opera, or the Speed Dial extension for Firefox, or the Most Visited feature in Google Chrome, the Top Sites page shows a page of website thumbnails, making it easy to visit a site with a single click.
By default, Safari watches which pages you visit most often, and dynamically updates the Top Sites page based on the usage statistics, and doing things such as removing login screens and multiple pages within a domain. But you can also add your own sites to Top Sites. Just open two Safari windows, one showing the Top Sites page, and one showing the page you'd like to add to Top Sites. In the Top Sites window, click the Edit button. In the other window, just drag the want-to-add site's icon (to the left of its address in the URL bar) into the Top Sites window. Drag it exactly where you'd like it to appear, then drop. When you drop the dragged icon, the site will be added to your Top Sites page.
You can also pin your Top Sites place, so that they'll always be in the same spot when you load the Top Sites page—click the Edit button, then click the pin icon to stick a site in its current location. While in Edit mode, you can also rearrange the Top Sites icons by dragging (which will also pin them to that location), and delete unwanted pages by clicking the X icon. (If you want to get a deleted site back onto the Top Sites page, just follow the method I described above to drag that site back on to the Top Sites listing.)
You can also choose from three icon sizes for the Top Sites page—Large mode shows six sites, Medium shows 12, and Small, a whopping 24 different sites.
Not only can you see previews of your favorite sites at a glance, Safari will also let you know which of those sites have updates—a corner peel with a white star denotes an updated page. Visiting any Top Site is as simple as clicking one of the icons; the icon will expand to replace the Top Sites page with the clicked page.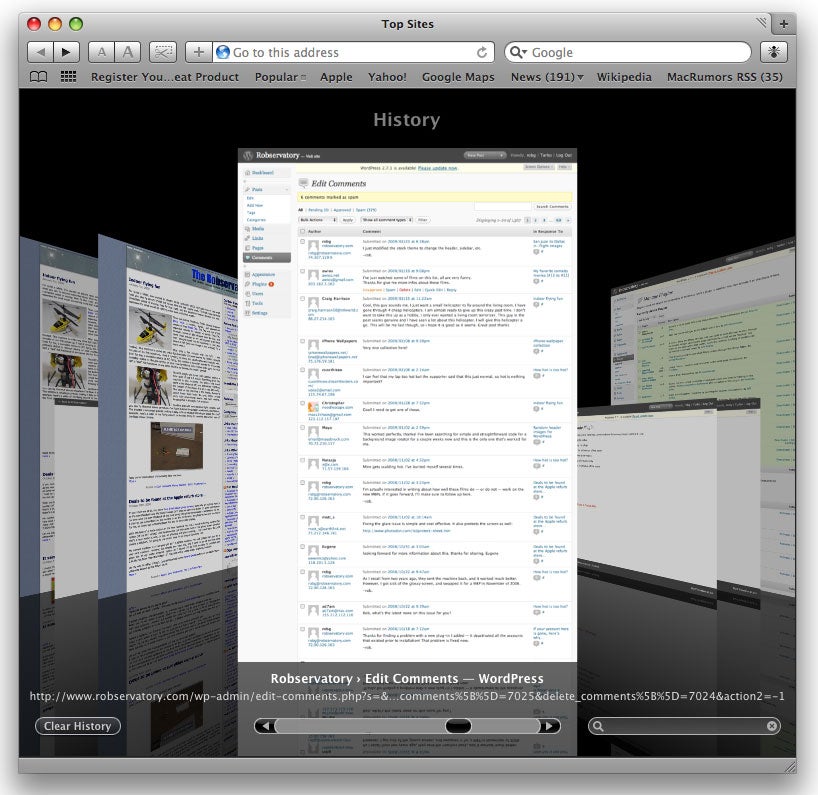 Search party
Another feature on the Top Sites page is a search box for searching your surfing history. Click in the search box, and you'll see a Cover Flow-like view of web pages you've visited. As you type your search terms, the number of displayed sites decreases as sites are eliminated.
Safari 4 not only searches titles and URLs, but also the full text of the pages you've visited. So you don't need to remember something that was in the title or URL of the site you're looking for; any term that was on the page will work just as well.
You'll also see a Cover Flow-like mode while viewing your History or Bookmarks pages; just like in the Finder, Cover Flow in Safari shows thumbnails (of sites, in this case) above the usual list-like view showing the title and URL for each site.
User interface changes
If you use tabs, another very-visible change is that tabs have now moved to the very top of the browser window—in older versions of Safari, they appeared below the bookmarks bar. By putting the tabs in the position where most windows have a title bar, Safari's developers have provided more room for Web page content—an important consideration for laptop users. I expect this new tab location to be one of Safari 4's more-divisive new features; a quick poll of some friends and coworkers showed a near 50-50 split between the "love it" and "hate it" camps. (If you'd like your tabs to return to their old location, all you need is a relatively simple Terminal command.)
The URL and Google Search fields have gained some serious smarts in this release of Safari. As you type in the URL field, Safari displays a drop-down menu showing what it thinks the best match is; you can load that page at any time by just pressing Return. Below the Top Hit, Safari displays two additional sections, showing possible matches from your history and your bookmarks.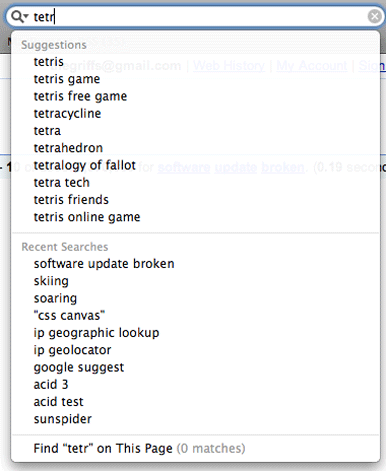 The Google Search box also displays a drop-down menu with three sections (assuming you're viewing a Web page when you use the Google search box). The top section displays suggested searches from Google, based on what you've typed so far.
The second section displays recent searches that you've run, and the last section (really just one line) shows you how many matches for your search term exist on the currently-loaded page. If you select this last entry, Safari will dim the screen and highlight the items on the page that match your search terms—just as if you'd pressed Command-F to use the find-on-page feature.
Developer tools
If you're a Web developer, Safari 4 offers a number of new and/or improved development tools to help you build effective sites. A full-blown Web inspector lets you see page structure, debug JavaScript, and optimize performance. An Elements inspector lets you view your site's CSS, and even make changes which are then previewed on the page in real time.
A resources panel displays the loading order and time for every element on a page, showing you exactly where a hang-up might be occurring. You can also sort the results by latency, response time, or duration, and you can graph resources by size or load time. In my brief time with these tools, I've found them to be very well done—Safari 4's tools may not offer every feature of the popular Web Developer and FireBug web development plug-ins for Firefox, but they come a lot closer than they ever used to—and the tools that are there seem to be very well done.
Windows world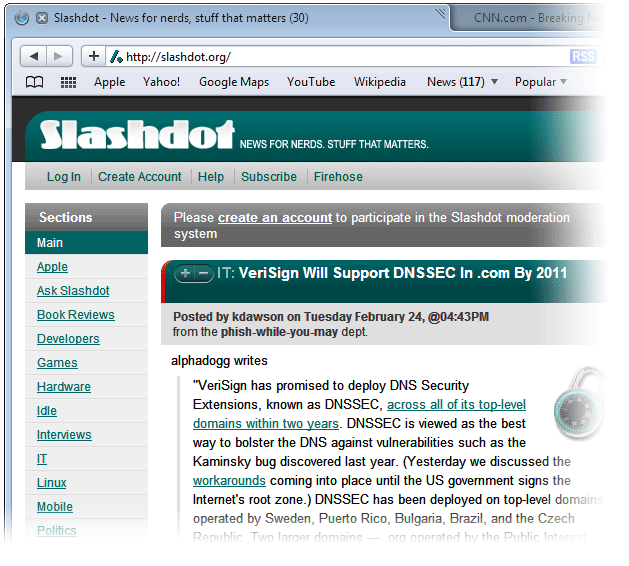 Those who use Safari on Windows get everything discussed here, plus some additional Windows-only changes. Until now, Safari on Windows has looked very much like Safari on the Mac—the user interface, buttons, and even the font rendering were all taken directly from OS X. While Safari looks perfectly at home on OS X, it looked completely out of place in Windows XP or Vista, having an interface that was unlike anything else on the platform (except for iTunes!).
Safari 4 Beta solves that problem by adopting a true Windows-native appearance, including native Windows font rendering. (Mac-style font rendering is available as an option in Safari 4 Beta's preferences.) No longer does Safari look completely out of place when running on Windows; it now looks like it belongs on the operating system, which is a good thing if you're a Windows Safari user.
First impressions
Safari 4 Beta adds a slew of new useful features—for both end users and Web developers—to what was already a very good browser. While it may take time for some to adjust to tabs on top of the window, the overall feel of Safari 4 Beta is one of speed and efficiency. The user interface does its best to stay out of your way (while still being quite feature-rich), and the low-level changes in the browser mean that web sites load quickly and efficiently. A full review will have to wait for the final release, of course, but based on what I've seen so far, I'm impressed with this beta version.
[Senior editor Rob Griffiths also took a look at the Firefox 3 beta last year.]