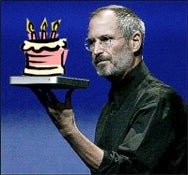 While Steve Jobs may not currently be acting as CEO of Apple, he'll always be CEO of our hearts. To that end, we here at MacUser wanted to extend our warmest birthday wishes to the man behind so many of the products that make our everyday lives a joy. Or, at least, helps us forget about the black hole of despair that the rest of our existence embodies.
Right. Anyway, Steve turns 54 today, February 24th, and we hope he's celebrating in style, possibly with vegetarian lasagna and some sort of pescetarian cake (they don't have to have fish in them, right?). Personally, I like to imagine him, beturtlenecked and in jeans—perhaps with fuzzy bunny slippers replacing his usual sneakers—giving a keynote presentation to his friends and family, updating them on the status of Steve over the last quarter, and explaining to them all the new features that come with turning 54 ("And then your knees just give out—boom.")
Seriously though, we hope Steve is taking his time off to rest, recuperate, and finish tagging all the faces and locations in his iPhoto '09 library. That way he can return fit and in fighting form sometime this summer. After all, somebody needs to keep Phil Schiller from wandering around the halls of 1 Infinite Loop, desperately giving product demos to anybody he can corner.
That's just how he copes.