We all have our own little ways to discover new music. Some of us browse artist recommendations on Last.fm, others skip through personalized radio stations on Pandora, and with the release of iTunes 8, the Genius sidebar is always just a click away. Still, one of the best ways to find out about great new songs and artists still remains one of the oldest – plain, good ol' word-of-mouth.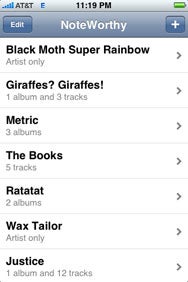 That's the idea behind NoteWorthy, a "listening to-do list" made by developer Roy Kolak. Instead of always having to pull out a crumpled-up piece of paper to feverishly jot things down whenever your friends recommend a new band or artist, NoteWorthy enables you to simply pull out your iPhone, look up the artist/album/song in question, and then save it for quick, offline viewing at a later date.
The app is powered by Last.fm's extensive database, which covers even the most obscure of music. I tested this out by asking a few friends to each name a virtually unheard-of musical artist, and in 83 percent of the cases we were able to find a match.
In addition to just saving the names of artists, albums and tracks, NoteWorthy also gives you the option of downloading the artist's bio, as well as a list of similar artists and groups. That way, you can read about an artist's background and influences before listening to them, and check out other recommended musicians if you end up liking what you hear.
All in all, NoteWorthy is a great little application, with a clean and easy-to-use interface that makes it extremely convenient to keep a tab on new music to listen to. So while you'll probably still be using Pandora and Genius on your desktop, this app will definitely come in handy for all those times that you're not.
NoteWorthy is compatible with any iPhone or iPod touch running the iPhone 2.2.1 software update.
[Kevin Ho is a film student based in Orange, Calif. In his spare time he practices sleight-of-hand and writes silly articles on his Web site.]