The iPhone helps you manage your e-mail, listen to your music, stay connected, and—every now again—make a phone call or two. Now, with the assistance of two recent arrivals at the App Store, it can also help you master the dark arts.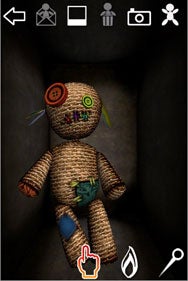 Oh, sure—VooDude bills itself as an entertainment app, but I think we can see through its facade. The app, from Aspyr Media lets you create your very own voodoo doll, which you can then poke with your finger, shake using the built-in accelerometer, or (virtually) set on fire. Aspyr calls Voo Dude a "stress relief buddy," and I'm sure it's all fun and games—until someone uses the app's customization feature to create a VooDude who looks suspiciously like you. (You can use pictures from the image library on the iPhone or iPod touch to personalize your voodoo doll.)
VooDude costs $1, which its App Store page lists as a special introductory price—which is certainly better than a poke in the eye, virtual or otherwise.
If you'd prefer to dabble in a less sinister realm of the paranormal, iCoolGeeks lets you experiment with chiromancy via the newly released palmReader . The $1 app simulates a palm reading by scanning a palm, displaying it on the screen, and doing a reading that corresponds to the image. The iPhone-only app offers both serious and silly settings, as well as a mode aimed at helping you win bar bets.
Other apps of interest that were recently updated or added to the App Store include:
Got an app you've just released to the App Store? Drop us a line.
Note: When you purchase something after clicking links in our articles, we may earn a small commission. Read our affiliate link policy for more details.