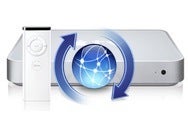 If your Apple TV hasn't alerted you to its presence yet, you ought to know that Apple released Apple TV Software Update 2.3.1 today. As is evident by the tiny little increment in the version number, it hardly even qualifies as a minor update. It's so minor, in fact, that no one really knows what it does yet. For all we know, it just adds another flying tile to the fancy screensaver!
It does seem, however, that if you have a third-party hack, such as Boxee, installed on your Apple TV, it will be summarily disabled by the update, so proceed with caution.
You can now either wait for your Apple TV to run its scheduled update checking and alert you all by itself or you can make the job a little easier for it by going into 'Settings » General » About » Software Update' and downloading it yourself. If you notice something different once you're done, be sure to let us know.
Update: According to a post on Boxee's Twitter feed, running the patchstick again after the update will reinstall Boxee.
Update 2: Senior Editor and Apple TV whiz Chris Breen reports that there's also now a Network Test option under Settings -> General -> Network, which reportedly sends information about your network connection to Apple to help improve download performance. Unfortunately, the process doesn't seem to provide much in the way of feedback. Screenshots below.