Mac-Chi on Wednesday announced the release of Googaby 1.0, a Google Contacts management application for Mac OS X. It's priced at $25, and a 10-day trial version is available for download.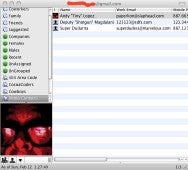 Googaby pushes any change in your Mac OS X Address Book database out to your Google account, so you can be sure that Google contacts are synchronized with the information on your Mac.
The software features drag and drop support and a customizable iTunes-style browser interface. In addition to pushing contact data, it will also send pictures and group memberships. The information is transmitted in the background, so Googaby doesn't tie up your Mac while it's working.
Customized data loading options are available, and Googaby supports multiple Google accounts. The software lets you drag contacts direction into spreadsheets, provides control over vCard data and manages automatic case conversion and customizable phone formatting.
System requirements call for Mac OS X 10.4, G3/400MHz or faster, 11.1MB hard disk space and Internet connection.