Procrastination is my strong suit—any Macworld editor who's ever given me a deadline will readily agree, I suspect. (Editor's Note: Nodding sadly.) So it's little wonder that a few years back I bought a nice USB music keyboard for my Mac and promptly did … absolutely nothing with it.
Oh, sure, I made a few half-hearted attempts to learn how to play, and I even invested in some tutorial software. But none of it stuck. I have renewed hope that I might be able to do more than just play Chopsticks, though, all thanks to Tim.
Tim is a very patient teacher. He never gets frustrated with me, and will repeat the same lesson over and over until I get it right. He's calm, personable and friendly. I like Tim.
Tim's the instructor whose lessons Apple includes for both guitar and piano as part of GarageBand '09, the new version of Apple's music software included as part of iLife '09.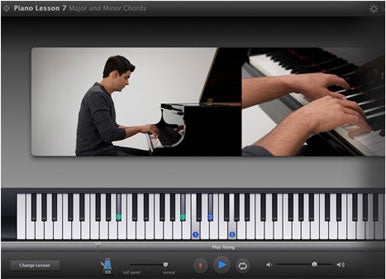 It turns out that Tim's last name is Blane, and he's a Boston-based singer and songwriter, according to a recent article in my hometown paper, The Boston Globe. My colleague Dan Moren has more details on Tim Blane via the Globe, including ho he was hand-picked by Steve Jobs after an audition process that included a thousand other applicants.
As the Globe reports—and Dan notes—Blane's never taught a lesson before, but you wouldn't know it from his down-to-earth presentation. So far Tim's taught me quite a bit about hand placement, rhythm and major and minor chords; I've plinked around on my M-Audio Keystation 49e while he shows me what to do. What I'm really looking forward to, though, is the final lesson in the series, where Tim teaches me how to play some 12-bar blues.
Then, maybe after that's done, I'll haul out the guitar I've had sitting in the corner since last summer and have Tim show me some tricks there, too.
The lessons Tim offers in GarageBand are, of course, no substitute for a real music teacher. For one thing, they're quite limited—there are only nine of them, all together—and for another, they're not interactive. I can't stop Tim and ask him a question or hit him up for some bit of information that's not part of Apple's curriculum.
But Tim's GarageBand lessons do well in providing a basic framework to understand the instrument I'm playing; they also give me enough confidence and interest to pursue it further. To that end, Tim's tutorials easily succeed where other software I've tried on my Mac have failed. I hope Apple and Tim will work together again before too long.