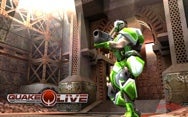 1999 was a good time to be a college student: the Internet was exploding in growth and the bandwidth flowed freely at higher education institutions. And what did we use those connections for? Why, blowing the hell out of each other with shotguns—virtually, of course. That was the year Quake III Arena debuted; it was the first title in that series to be specifically targeted at a multiplayer environment and, more importantly, it came out for Windows, Linux, and the Mac.
Ten years later and that one-time cutting edge first-person shooter is making waves again, now as a free browser-based game dubbed Quake Live developed by original creator id Software. The game went into public beta on Tuesday, with thousands of people already on the waiting list, but unfortunately, Mac users are out in the cold right now, as the game currently only supports Windows.
Fortunately, id's lead developer, John Carmack—who's appeared at his fair share of Apple keynote events— told gaming blog Joystiq that Mac support is on its way:
id Software's John Carmack tells Joystiq that "it's pretty high on my priority list to have the Mac and Linux support." To that end, an external contractor is working on just that "right now" but Carmack acknowledges that Quake Live compatibility "is going to be a much bigger factor in [the Mac and Linux markets] for people wanting to play the game than it is on the Win32 market where you have so many more options." Carmack was even hopeful that, with enough popularity and some special attention from Apple, the could get "maybe a handful of milliseconds better [on Mac OS] than you can actually get on Windows."
That certainly sounds good—even better is the fact that the game's producer, Marty Stratton, is a Mac user who currently has to resort to Boot Camp to play. Stratton also said that support for Google's Chrome was in the offing, though there was no specific news about Safari.
But id's not without competition in the online Web gaming market. GarageGaming's browser-based system InstantAction went into beta on Tuesday as well, and it promises compatibility with any game on both OS X and Windows. Them's fighting words—perhaps best settled with a rocket launcher.