If you like to chat with friends on your iPhone using AOL's network, you'll probably be interested in an update in AIM for iPhone.
Interested doesn't necessarily mean you will like everything in the new version. For example, AIM for iPhone has been renamed AIM Free. If you guessed that because there is a free version, there must be a paid version, you would be correct.
AIM Paid is currently rolling through the approval process at Apple, according to AOL. They said it should be available soon.
So, how exactly does AOL plan to support development of its free AIM iPhone app? Yes, you guessed right again. AIM Free is an ad supported version. When viewing AIM Free on your iPhone, a little ad pops up from the bottom of the window for a few seconds and then disappears again.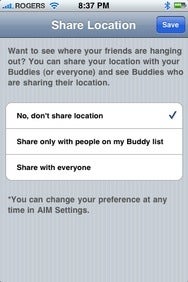 AIM Free does have some pretty cool looking new features like location awareness, and SMS notifications that will be interesting to play with.
When you first start up AIM Free it will ask you if you want to share your location. You can share with your buddies, share with everyone or not share your location at all.
You can now stay logged into the network for 24 hours, even if AIM isn't running. You have the option to set up SMS notifications that will alert you when you receive a new IM.
Rounding out the list of features for the new version is the ability to access your Contacts from within the AIM application. This allows you to send an IM to a screen name or an SMS to a phone number.
AIM Free is free to download. AIM Paid will cost money, but AOL didn't say how much or what features that version will have.
[ Hat tip: Ars Technica ]
When you purchase through links in our articles, we may earn a small commission. This doesn't affect our editorial independence.