Polleo Limited's iScores delivers what its name promises: scores. No stats, news, past results, or schedules here—it's nothing but today's scores, live from around the world, in seven sports (soccer, tennis, baseball, hockey, basketball, football, and Formula One racing). Drawing data from scorespro.com, iScores keeps tabs on 237 leagues and 60 tournaments in 73 countries.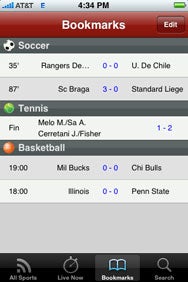 iScores' strength lies in its search and bookmark functions. The search screen gives you a quick way to find games by typing in team names. Add the games you want to follow to the bookmarks screen. Choose a badge, a sound, or a vibration to let you know when a bookmarked score is updated.
But that's where the weaknesses begin. iScores alerts you, but it gives you no eye-catching visual clues—like a bold or colored font—to indicate which of your bookmarked scores just changed.
Another annoyance comes when you jump out of iScores to use another app. When you jump back in, you're shown the app's home screen. It's up to you to navigate back to the bookmarks screen.
There are other presentation and navigation niggles, any of which might be tolerable in a free app. And fans interested strictly in U.S. sports will definitely want to look for a more domestically-focused score tracker. But if you need the live score of every soccer match in the world at any given moment of the day, iScores could be worth your time.
iScores is compatible with any iPhone or iPod touch running the iPhone 2.2 software update.
[Tony Craine is a freelance writer, playwright, and voice actor in Chicago.]