Fanurio Time Tracking has announced the release of Fanurio 2.0, a major upgrade to its time tracking and billing software for Mac OS X. It's priced at $60, and is a free upgrade for registered users.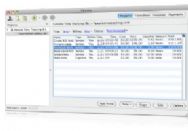 Fanurio helps freelancers and others keep accurate records of time spent on projects and can help produce detailed invoices. It records services and expenses, rounds time, applies discounts, manages subcontract work, supports multiple currencies and tax, records partial payments and more.
New to the 2.0 release is a Timesheet view; timesheets can also be imported from other users and users on other computers. Partial payment support is new to this release, along with client statements and the ability to export time, invoices and payments to CSV or Excel formats.
System requirements call for Mac OS X 10.3.9 or later. A 30-day trial version is available for download.
Note: When you purchase something after clicking links in our articles, we may earn a small commission. Read our affiliate link policy for more details.