Price comparisons are a common problem while shopping for groceries: Is the 20 ounce drink for $1.50 or the 32 ounce for $2.49 a better deal? The answer is found by converting their price into its per ounce cost, but this is a difficult to do in your head, and certainly not something you want to do while grocery shopping.
Fortunately, Ilium Software's Apples2Oranges solves two pressing problems: price comparisons, and how much of an ingredient is needed in a recipe.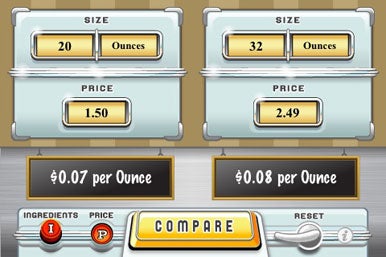 Apples2Oranges makes both tasks simple to perform. You enter the price and units for each item, and the app tells you—on a little chalkboard—how much each costs per unit, making it easy to decide which is the better value.
Because Apples2Oranges is intended to be used in the grocery store or kitchen, where time is limited, the entire application fits in one view. There are no tabs to toggle between, and thus less wasted time—you open the application, enter the information, and go. Apples2Oranges is fast, too; unlike some applications, the keyboard pops up almost instantaneously. Unfortunately, though, it does not use the number pad, which would make it even quicker to use.
To fit everything on the screen of your iPhone or iPod touch, the application only works in landscape orientation. While having everything on screen at one time is convenient, using the iPhone in landscape view in the grocery store or kitchen feels awkward. It requires two hands to use, which is a pain while holding a basket or trying to cook. Apples2Oranges would certainly benefit from a portrait mode, which is easy to use with one hand.
The application also can tell you how much ingredients are needed for a certain amount of servings. This is especially helpful for me, as I usually cook for only two people, and need to cut down on the servings presented by many recipes. When you switch between Apples2Oranges' price comparison and ingredients modes, the two panels flip over to signify the switch, revealing moving gears in the background. It's a fun way to make the change clear (and also a helpful visual cue in the kitchen and grocery store, where your attention is divided).
Apples2Oranges' aesthetic is unique. It looks like a cross between a 1950s grocery market and refrigerator, with chrome accents and chalkboards. While the look is fun, the shiny, cartoon-like appearance is so jarringly different from a typical iPhone application that I found it to be distracting. When I first opened Apples2Oranges, I was initially struck more by its look than the application itself.
The unique look isn't necessarily a bad thing—if toned down, it makes otherwise-mundane activities fun and lighthearted. But I think there needs to be some consistency with iPhone application style.
Apples2Oranges does precisely what it sets out to do, and for the most part, it does it well. It Is fast and simple use, which are the most important consideration. With a few changes, though—the most important of which are the additions of a number pad and portrait mode—it will be a great utility. I know I will continue using it in the kitchen and at the grocery store.
Apples2Oranges is compatible with any iPhone or iPod touch running the iPhone 2.x software update.
[Kyle Baxter writes and publishes the Mac weblog TightWind.]