Pining for instant access to episodes of " MacGyver" on your iPhone (and really, who isn't)? CBS Mobile has you covered with its new TV.com app (iTunes link) released on Thursday. The app offers free streaming video content from CBS (including CBS News, Sports, and Radio), the CW, and Showtime, as well as CBS-owned Cnet and some other places (CBS aquired the TV.com Web site along with its purchase of Cnet in 2008).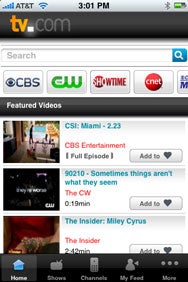 Most of the content consists of clips, interviews, and promos, but you'll also find full episodes of some TV shows, such as "CSI: Miami" and the aforementioned Richard Dean Anderson classic mixed in (well, to be honest, there weren't many other shows I could find full episodes of at first glance). Full episodes are presented as multiple clips instead of as a single video. You can search for shows using the Search box at the top, or tap on the Shows and Channels buttons to browse in other ways.
There's also a category list—available after tapping on the More button—that lists News, Sports, Music, TV Shows, and Science & Technology categories. Under Music, for example, you can further refine your search and find YouTube clips of different artists (although it displayed a video of Sting the wrestler [aka Steve Borden] instead of Sting the musician [aka Gordon Sumner]).
A "Shake to Shuffle" feature rewards jiggling your iPhone with a randomly selected item.
The App Store description says that the TV.com app works on EDGE, 3G, and Wi-Fi. A quick test of a few clips using a Wi-Fi connection showed acceptable but not stellar quality, and wide-screen clips appeared with black bars all around them. The app also seems a bit unstable and unpolished—Cnet videos showed wildly inaccurate run times of as long as 23 hours—but with a little work (and perhaps some duct tape and a ballpoint pen) it looks promising.