As designers, marketers, and fans of the Helvetica documentary know, picking a font is one of the most important decisions in the creation of Web and print materials. One of the best tools to help both designers and laypeople identify fonts is the Web app WhatTheFont, which identifies fonts based on images uploaded by users. There's also a mobile version of WhatTheFont, available from MyFonts. It's a fine addition to your iPhone or iPod touch, but it suffers from some limitations.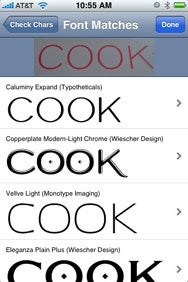 WhatTheFont for iPhone is simple in principle: take a picture of some interesting text, crop the image to only include a few letters, and upload the image, presumably to the servers WhatTheFont already uses for its Web app. WhatTheFont then guesses what the letters are, spitting out a list of potential fonts used. Results come back quickly if you're using a Wi-Fi connection—less than 20 seconds, depending on the number of letters. EDGE and 3G connections can take a bit longer—sometimes a minute or more for upload and results.
As you might imagine, the iPhone's camera occasionally causes problems with WhatTheFont—blurry images obviously don't work well, nor do low contrast snapshots. iPod touch owners obviously are limited by the fact that their mobile device doesn't have a camera; however, WhatTheFont still offers support for the touch, letting users upload images from their photo library.
Hardware problems aside, WhatTheFont generally picks out individual letters and characters accurately—it usually knows when it's looking at an "A" as opposed to an "X," for example. Identifying fonts, however, can be a bit more problematic. In my testing, it failed to identify two "easy" fonts: Helvetica and Georgia, though its guesses were very similar fonts. Then again, WhatTheFont isn't about identifying fonts you already know, but instead about discovering new ones which might meet your needs as a designer. To that end, the mobile application is a worthwhile design tool.
WhatTheFont is compatible with any iPhone or iPod touch running the iPhone 2.x update.
[Kate Dohe is a graduate student in library and information science at the University of Hawai'i in Honolulu; she works with the Laboratory for Interactive Learning Technologies as a designer and site administrator.]