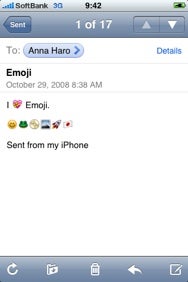 If you haven't gotten onboard with emoji, don't worry—neither have I. The little emoticons are a staple of text conversations in Japan, and Apple added support for them in version 2.2 of the iPhone software—but only for those using Japanese input methods.
Of course, it wasn't long before a few clever folks figured out how users in other places could take advantage of them too. Several apps, including Gary Fung's Typing Genius (iTunes link), allowed users to unlock that functionality, but it appears the jig is now up. Fung says Apple has informed him that they are removing emoji-unlocking apps from the store, and that future apps that involve the oh-so-adorable icons will be rejected in the mysterious approval process. Typing Genius and other apps which have features beyond just unlocking the icons will be allowed to stay, presuming that they are updated immediately.
Apple gave no reason for the removal—I know, you're reeling with shock over that—but as unlocking the emoji apparently required a loophole in the iPhone OS, it's not exactly a surprise. The upshot? If you're craving the ability to put icons of everything from rocket ships to frogs into your emails or text messages, then you should grab an emoji app while you can. Those that unlock the emoji before the update will retain the feature.
Look, kids today with their animated GIFs and emoji don't know how good they have it. All I'm saying is that when I was a boy, we made our smiley faces with colons, hyphens, and parentheses, huddled around the meager warmth of the campfire and, gosh darn it, we were lucky to have that much.