Situated around the board table of the Bently Reserve is not how I pictured myself previewing the latest addition to City of Heroes. The Bently Reserve, for those who don't know, is the biggest reserve in San Francisco and is included in the National Register of Historic Places. It's huge, stately, and architecturally stunning. Which is the point.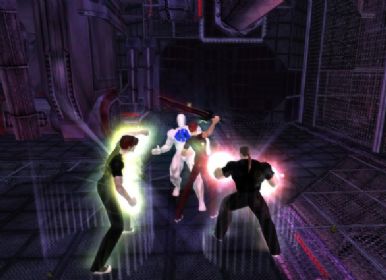 The latest upgrade to City of Heroes, the iconic superhero massive multiplayer online game which recently came to the Mac after a long run on the PC, is not merely a game feature, but a new game system. City of Heroes: Mission Architect will allow players unrivaled ability to create their own missions and story arcs.
Joe Morrissey, a Senior Designer at NCSoft and former designer at Blizzard, led the demonstration of the tools. At first, these tools were used by the developers themselves to design missions for the game. But long ago the idea fermented that they should give these powers to users themselves. But how much control to give users? Without the funding, they could never answer that question.
When NCSoft took over City of Heroes a year or so ago, they suddenly had the funding to develop a system where players can design story, story arcs, bosses, minions and share it with their peers across servers and with relative ease. Players can level up their characters to level 50, gain abilities and battle with their friends in user-created missions just as they do in the original game. A series of clever checks and balances is designed to ensure players can't exploit the system to quickly level up characters or gain disproportionately high rewards for simple achievements. Instead, City of Heroes is aiming to be the first MMORPG to truly tap into the creative minds of its players and offer user-created content.
In 19 different zones there will be an "Architecture Entertainment" building where players can build simulations (ie missions) and hop into previously built ones. The Mission Architect uses "tickets" as in-game crrency, and you gain more tickets for finishing entire arcs (rather than repeatedly completing the first level) and you also gain tickets by having other players rate your mission. Tickets go to you account and can be applied to any character. Each account can publish three story arcs that can be rated by their peers.
To promote the revamp of the game the comedy group Rooster Teeth (most known for their Red Vs. Blue series of videos set in Halo's universe) was hired to create a series of equally hilarious superhero themed videos. For the assembled journalists, they screened the first one with the appearance of "Captain Dynamic" and his "awesome button" (you don't want to touch it, trust me).
For detail-focused gamers, City of Heroes has just given you a worthy toolbox. You can insert text during numerous mission events to further the plot, design your own bad guys (or have access to the entire City of Heroes catalogue of villain groups), and even choose among the ten different mission goals to create a real sense of personalized adventuring. During the demo, Joe Morrissey's British-inspired hero saved a group of journalist-centered heroes from the clutches of a villainous tech company. One of the intrepid heroes was modeled after yours truly — complete with a Mac startup icon on my chest. My battle cry wasn't exactly fearsome, but memorable nonetheless: "This would never have happened on a Mac!"
Afterwards, I managed to sit down and test out the level editor myself. The level of customization is certainly impressive and an error detector lets you know if you've put in too many events on a map or if you've forgotten to give certain specifications to the system. Each map can have only so many events, so if you want lots of events to further the plot, you might want to have a bigger map. I spent a good thirty minutes working on a mission, but I could imagine spending hours doing the same. City of Heroes: Mission Architect is perhaps best suited for players who are willing to spend the time to unfurl an intricate plot with unique characters, stories, and twists.
The Mission Architect system is currently in Beta but hopes to allow everyone to spin superhero stories this March.
Editor's Note 2/27/09- Replaced previously posted version of article that was published by mistake.