Zevrix Solutions has announced the release of BatchOutput 3.5, a new version of its plug-in for Adobe InDesign. A free update for registered users of version 3.x, BatchOutput costs $120.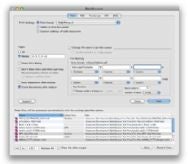 BatchOutput helps InDesign users to automate printing and exporting. You select the files to output and adjust settings, and rather than having to open and print each document manually, BatchOutput automates the process. It can handle complex variable file names, can output documents as single pages, and updates links automatically.
New to the 3.5 release is the ability to export files to the InDesign Interchange (INX) format.
BatchOutput requires Mac OS X 10.4.2 or later and InDesign CS3 or CS4.