Something I really love about new technology is the possibility that it's so revolutionary, it replaces things that have been commonplace in our lives for a long time. The iPhone is no exception to this, as it has found a way to take over the roles of all sorts of things we hold near and dear. Thanks to Night Stand, you can add digital alarm clock to that list.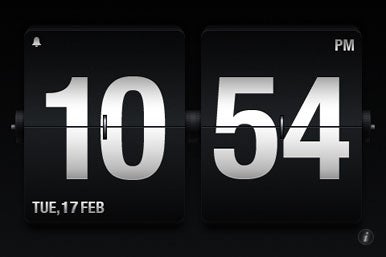 Fully customizable, this app from SpoonJuice lets you turn your iPhone or iPod touch into that glowing bane-of-your-existence friend that you have always had by your side. You currently have three color choices for the digital face (red, green and blue) and an old-fashioned black-and-white flip-clock face, all of which will self-orient themselves to however you're holding the device.
Night Stand also gives you the option of choosing other data you'd like to display—the day, the seconds, or a 24-hour time display. You can also run the mobile device's iPod app in the background if you're the sort of person who enjoys some tunes before bed.
Night Stand's alarm system is full of options as well; it's also the only part of the app that suffers from some drawbacks. From the alarm screen you're able to set one alarm and choose from 10 alarm sounds, ranging from a cuckoo clock to a woman screaming. To ensure that you don't just slam your phone to the floor to turn it off, the app also asks you a simple math equation to silence it. Unfortunately, this feature is easily circumvented by pressing the home button which closes the application entirely and shutting off the alarm.
Also, if the iPhone goes to sleep, the alarm won't go off at all. The workaround for this is to keep your iPhone plugged in to a power source while using the app or to tinker with the sleep settings in your phone, which could murder your battery life.
While I'd like to see some additional tweaks—namely, multiple alarms the phone's built-in alarm feature offers and maybe a way to keep the user from circumventing the anti-snooze device—NightStand is a near-perfect bed-side companion.
Night Stand is compatible with any iPhone or iPod touch running the iPhone 2.x software.
[Rob de la Cretaz is a full-time polymath and a proud resident of Pittsburgh.]