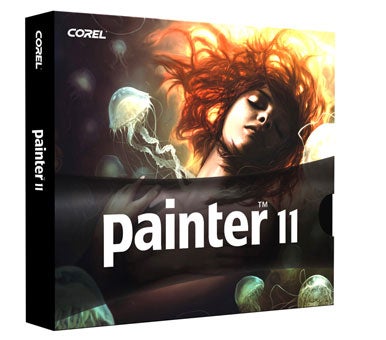 Earlier this week, Corel rolled out a new version of Painter, its painting software. I'm always excited to see a new version of Corel Painter. And even though I'm often hard-pressed to lay a straight line down on paper, I can easily see what the fuss is about. Whether you're a professional artist, you simply like to doodle around with pastels, crayons, and colored pencils (my favorite), or you get your kicks out of applying painterly effects to photos, Painter 11 has a unique appeal.
Don't be fooled: Painter's no snap, especially if you're serious about creating art. And if you're an artist, a pen and tablet is a must-have item for Painter. But alongside the pro-level Painter mystique resides a play-around factor that's surprisingly intuitive for most of us non-artist/amateur photographer types to grasp. Or maybe, there's something about having the largest box of crayons with the most colors or a nice collection of paints and brushes that just makes me happy.
Painter is all about brushes: colored pencils, pastels, chalk, markers make up the brush categories in Painter. Markers are new in Painter 11, as is a feature called Marker Buildup. Just as if you were drawing with real markers on paper, Painter 11 simulates the way color would build up if you kept stroking the paper with color in the same place over and over again, or mixing marking pen colors together.
This new version also gives you even more brushes (40 new dry media brushes spread throughout various categories) while increasing your ability to customize them. Some (but not all) brushes feature new tilt and velocity recognition and control—that means the faster the stroke, the thinner the resulting line, with the opposite effect resulting from a slower stroke. And since you can choose the type of paper texture and background you're painting on, the result can be very tailored and unique.
If you like to paint, then you probably also mix colors. And with Painter 11, you get to do it in a somewhat different— and larger—way. First, you can make the new color palette really huge—800 pixels wide. Now that all controls (the color wheel and sliders) appear on a single palette, it's easier to choose colors. But it's the resizable mixer palette that can go to 1,600 pixels across that's even more exciting. Plus, now that there's room for more swatches to the Mixer palette, you can create even more color variations.
Painter 11 has all the capabilities introduced in older versions too, so with this version, Corel promises bigger, better, faster, and more. I'll leave it to our review—which will appear on Macworld.com next week—to give the final verdict on whether this new release lives up to its promise.
Note: When you purchase something after clicking links in our articles, we may earn a small commission. Read our affiliate link policy for more details.