Rapid-fire pasting, quick access via the Finder's menu bar, and other new controls highlight the changes to the latest version of iClipboard. All told, version 2 of the clipboard manager includes 14 new features, according to developer Chronos.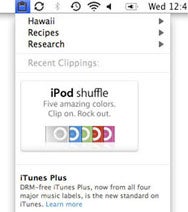 First introduced in late 2007, iClipboard records everything copied to the clipboard from any application. By presenting a history of clippings, the application frees you up to paste anything—not just the last item you copied to the clipboard.
iClipboard 2's new Rapid-Fire Clipboard features allows users to quickly copy multiple clippings and then paste them consecutively. The updated program also features menu bar access, letting users click the iClipboard menu bar icon to get a drop-down list of clippings.
Other additions to iClipboard 2 include three options for controlling the clipping shelf heigh, the ability to edit Web clippings, an Ignore Application list to stop clippings from certain apps from being recorded, and a hot key to open and close the clipping shelf. Users can now name their clippings and paste rich text clippings as plain text.
Existing iClipboard users can upgrade to version 2 for $15. iClipboard costs $30. The app requires OS X 10.5.5 or later.