Wine can be so intimidating. If only it was a simple matter of red and white. Instead, the drinker confronts a bewildering array of varietals, regions, vintages and terminology
I'm not a hardcore oenophile, but I happily drink with people who are. A few years ago, my wife gave me one of those wine logs that you're supposed to use to keep detailed information about the wines you drink and how they taste. When it comes to the fruit of the grape, however, my critical vocabulary is limited more or less to "Hmmmm! Good juice!" or "Tastes like burning!" But I know what I like.
So I never used that wine log. But now that I've had a chance to explore some wine-related applications for the iPhone and iPod touch, I might start keeping closer tabs one my wine drinking experience.
Typically with the App Store, there are a dozen variations on the same theme, whether it's an RSS reader, a Getting Things Done productivity aid, or a unit conversion tool. That's certainly the case with wine guide apps, but some are geared more toward the serious connoisseur while others have the beginning drinker foremost in mind. I chose five that run the gamut for this round-up.
Read more…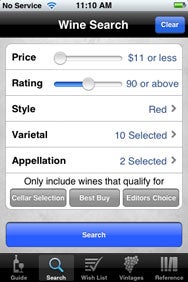 The Wine Enthusiast Guide app by MobileAge is the iPhone version of the popular and influential wine magazine. The app is loaded with information—so much, in fact, that it likely would be daunting to a beginner who first launches the app only to be met with a massive wine buying guide listed in alphabetical order. Where in the world do you start?
As it happens, the Wine Enthusiast Guide does feature a useful "Wine 101" tutorial, located under the reference tab. The reference section also includes a glossary of terms, which is at times helpful in penetrating the obscure vocabulary of wine reviewers but probably not as useful to the amateur as the developers might have though.
The real appeal of the Wine Enthusiast Guide, of course, lies in the reviews. The app lets you browse or search more than 65,000 reviews. The idea here is that if you are at a bottle shop or a restaurant and you wonder about a particular brand or vintage, you can pull out your iPhone or iPod touch (assuming you are near an open Wi-Fi or 3G connection), launch the Wine Enthusiast Guide, and learn everything you need to know.
The app's excellent search engine lets you explore as widely or as narrowly as your tastes and Wine Enthusiast's reviews allow. A search will return up to 500 results, so it's best to enter certain parameters. If you are looking for, say, a full-flavored California red wine rated 89 or better for $15 or less, the guide will return 10 excellent choices. When you find something you might want to pick up later, simply add the wine listing to your wish list with the tap of a button.
That said, the app's wish list feature is primitive and impossible to edit, beyond the ability to remove items from the list. What's frustrating is you cannot sort the wish list alphabetically, or by vintage, varietal or rating as you can with the search engine. The wish list simply presents your wines and the accompanying reviews in the order you added them. It would be so much better if the app would list the wine's name, varietal, year and rating and let you tap to reveal the magazine's review and any other vital information.
Another big downside of the Wine Enthusiast Guide is that you cannot add notes or reviews of your own. The app would also benefit from a "favorites" list, which you could share with other users by e-mail or Twitter.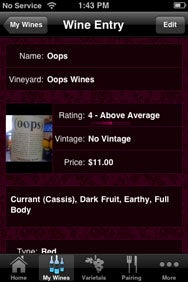 Wine Snob by 9mmedia is one of several apps that lets you track and rate the wines you drink, while letting you search for wines you might like, providing basic definitions, and offering helpful suggestions such as general food and wine pairings (e.g., try a Barolo with lamp chops, but not with lamb shanks).
Despite the app's name, you don't need a degree in viticulture to make the most of Wine Snob. Wine Snob's interface is elegant and easy to read and navigate, with plenty of descriptive tags to help you rate and rank your favorite vintages.
Entering wine is simple. First, tap the My Wine button in the menu bar at the bottom of the screen, and then tap the plus sign in the upper right. You'll need to type in the name of the wine, the vineyard, price, and region. For the other data, such as rating, type, varietal, country of origin, and tasting tags, the app provides several easy menus to scroll through and select. The app also has a limited geotagging feature, so you can remember where you tasted a particular wine. (In most cases, it's my house—but your mileage may vary.)
I especially like the app's tasting keywords, which let you select from a few dozen descriptors (e.g. "bright fruit," "floral," "caramel," "tannic," "heavy") relating to taste and textures. Over time, as your database grows, Wine Snob lets you search by name as well as taste tag, which is a particularly useful feature when you are at the store, looking to pick up a bottle for dinner, and struggling to remember the name of that citrusy sauvignon blanc you had a few months earlier that went so well with scallops.
When you launch Wine Snob, the app displays an overview of the last wine you entered, how many wines you've tasted, your average rating on a scale of zero to seven, and the average price of the wines you've rated. The straightforward, clever rating system is one of the more appealing features of the app: zero is "undrinkable" and seven is "orgasmic." I drink mostly average (three) to above average (four) stuff, which is just fine with my wallet and me.
The app lets you sign up for a free account that lets you back up and restore your data. You can configure Wine Snob to sync at startup or after you've finished editing your entries, or you can sync manually.
What Wine Snob doesn't do is provide links to reviews or recommendations of specific wines. So if that's what you're looking for, Wine Snob probably isn't for you. But other apps do offer Wine Snob's journal function with the added value reviews and, depending on where you live, the option of purchasing wine online.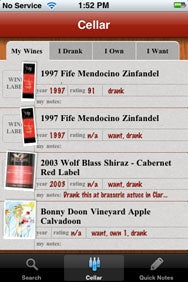 Drync Wine by Drync is an excellent example of such an application. With its slick interface and a reliable search engine, Drync Wine lets you keep track of the wines you've drunk, the wines you own, and the wines you'd like to add to your cellar.
What's most appealing about Drync Wine is the ease with which you can add to your cellar journal. The app gives you two options. First, you can search for a particular brand and then add your rating and notes with the tap of a button. It's ridiculously easy.
Second, if for some reason you don't have a Wi-Fi or 3G/EDGE connection, you can add basic information about a wine using the app's "quick notes" feature. Simply fill out a few fields and save. Quick notes are not automatically added to your cellar, however. Drync Wine will search the Web for additional data the next time you launch the app with a working connection, which you can then save to your cellar along with your notes. You can add photos, too.
The latest version of Drync Wine, which updated as I was writing this, includes a Top Wines button, which displays "featured," "most popular" and "top wanted" wines based on user ratings and feedback. It's an interesting feature, but be aware that the Drync Wine people are paying attention to the data you're syncing.
If you want to buy a certain wine—that 1995 Chateau Mouton Rothschild Pauillac you've been coveting, for instance—Drync Wine lets you purchase from Snooth, CellarTracker, or Wine.com with the tap of a button.
That said, the app does have a couple of quirks worth noting. Although you can add wines easily using the "quick notes" and "search" functions, you cannot add a new wine from your cellar page. It's a minor quibble, but the redundancy might not hurt. Also, the search function is a bit primitive, compared with the Wine Enthusiast Guide, for example. You are limited to search strings that include the winery, year, varietal or vintage, though not necessarily all four. On the other hand, I didn't give Drync Wine anything it couldn't handle.
Velvet Vine Wine Companion by Tap Leap Software promises the sort of full-featured experience that Drync Wine delivers, with a rich database of user-generated reviews and recommendations, plus the ability to save and post your own tasting notes and reviews for others to see. Velvet Vine, in short, is a social-networking app for winos.
It's not bad, but it needs help. Yes, Velvet Vine appears to have a growing membership, and yes, there is a fully loaded database of wines to search and browse though, as well as hundreds of user reviews. But the reviews are often maddeningly short, some consisting of nothing more than a numerical ranking between 50 and 100.
The app is easy enough to use. To add a journal entry, simply tap the journal menu button, and then tap the plus sign in the screen's upper left corner. You can then enter information about the wine and as much or as little detail as you like, as well as a photo. I wish the app offered more data entry fields, similar to Wine Snob and Drync Wine, which would make user reviews more helpful.
You can choose whether to share your reviews with the community or keep your opinions to yourself. Ultimately, though, the app is only as good as the shared content. I'm not certain that Velvet Vine would hold much appeal for a neophyte, and if I fancied myself more of a connoisseur, I'm not sure I would be happy with the quality of what's on offer now. What Velvet Vine really needs is a dedicated group of users willing to bring a more cultivated sensibility to the user community.
Finally, if you are looking for little more than a traditional wine journal that fits in the palm of your hand, you can do no better than App Shop's Wine Pad.
I like the app's utility more than anything. It won't recommend wines. It won't tell you whether you should pair your chicken à la king with red wine or white. The app will only tell you what you tell the app.
The simple interface is reminiscent of note-taking apps such as YouNote ( ), although Wine Pad is graphically similar to Take A Note ( ). The main difference between those apps and this one is the addition of multiple specialized fields that make a wine journal useful later on. Wine Pad has data fields for vintage, price, type, varietals, the winery and its appellation, pairings, color, clarity, aroma, and taste. Several of the fields, such as the food pairing section, have fully customizable tags. And, of course, you can write as much or as little as you like.
For the truly hardcore wine aficionado, the only downside with Wine Pad will be trying to type in legible notes after the fifth glass at the fourth winery.
The applications are compatible with any iPhone or iPod Touch running the iPhone 2.2 software update.
[Ben Boychuk is a freelance writer and columnist in Rialto, Calif. Feel free to drop him a line.]