Avaak on Monday launched its Vue personal video network, a wireless video monitoring system aimed at consumers.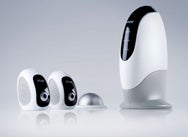 The Vue uses a proprietary mesh networking technology to stream real-time video to the VueZone Web site, where users can log in to control and view their private feeds. Users connect a wireless gateway to their network, and can then position multiple Vue cameras up to 300 feet away (or farther with optional repeaters). The company says each camera can transmit about one million images on a single battery.
The Flash-based VueZone Web site offers users the ability to view up to 50 cameras connected to a single gateway using a drag-and-drop interface, and you can also share video feeds with friends and family, as well as record and download videos as MPEG files (Avaak includes 2GB of online storage to all users, with more space available for a cost). The video transmits at 7 frames per second at 320 by 160 pxiels, or 15 frames per second at 160 by 120 pixels (you can also capture stills at 640 by 480 pixels). Current specs show that Mac support is limited to Firefox 3 users.
The $300 system includes the wireless gateway, two cameras, and four stick-on, magnetic camera mounts. Additional cameras cost $99. Avaak is taking preorders now, and expects to ship the Vue in early summer 2009.
The company is also working on an iPhone viewing app, which it hopes to make available about a month after shipping the Vue hardware.
[Updated at 1:01PM pacific time to correct price of additional cameras.]