To delete your completed tasks in Done, the to-do app from Chilli X, you have to rotate the iPhone to landscape view. This turns the screen into a single, giant orange button. Tap that button, and your iPhone or iPod touch emits a laughably loud laser-like zapping sound. Your completed items have been obliterated, sci-fi style.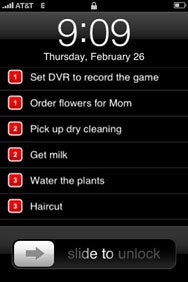 Innovative feature or annoying gimmick? You'd be surprised. It's almost perversely fulfilling the first few times. Will it still be after a month?
Done sets itself apart from the crowded field of to-do apps by providing basic elements, such as color-coded categories and three priority levels, along with a few features that take a slightly unorthodox approach, creating an almost game-like feel. Want to sort your tasks by priority? Shake the phone and listen to them shuffle into place.
But Done's standout feature is surprisingly practical—particularly if you're impatient. It turns your iPhone's wallpaper into an easy-access to-do list. Done takes a snapshot of a list of your top six to-dos, precisely sized to fit the wallpaper screen. Now, when your iPhone's dormant, you can get a quick glance at your tasks by pushing the home button.
The implementation is less than ideal. It requires two taps within the app itself, then a trip to Settings to choose the image as your wallpaper. And the image doesn't update itself as you check off completed tasks; if you want the wallpaper list to remain current, you'll need to repeat the whole process throughout the day.
But if you're always in a hurry and don't mind the clunky setup, Done may be your best solution for getting a glimpse at your to-do list and getting right back to work.
Done is compatible with any iPhone or iPod touch running iPhone 2.0 software.
[Tony Craine is a freelance writer, playwright, and voice actor in Chicago.]
Note: When you purchase something after clicking links in our articles, we may earn a small commission. Read our affiliate link policy for more details.