It's all about communication with Distant Shore, an iPhone app that's part social networking tool and part game. In Distant Shore, you exchange messages with other users from all around the world. It's completely different from many of the other offerings you'll find in the App Store. But the most surprising thing about it may be how well the premise works.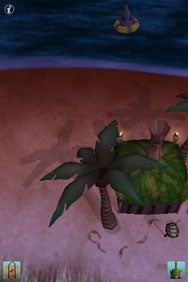 Built by The Blimp Pilots Distant Shore casts you as the sole occupant of an endless beach littered with seashells and bottles filled with messages from other users. As you walk along the beach, you collect these bottles and read the anonymous messages contained therein. These messages can be anything for a simple hello to a rumination on current events. The content of the message is entirely up to the sender and you may choose to respond, if you like.
To send new messages of your own, you must collect seashells. You earn one message-in-a-bottle for every five seashells you collect. You type your message in an e-mail like window and cast your bottle into the sea, where someone else will find it when your bottle washes up on their own "distant shore." Distant Shore is surprisingly relaxing, as you listen to the sound of waves crashing on the beach with seagulls passing overhead. If the concept of a simple and relaxing iPhone application sounds familiar, it's because The Blimp Pilots used the same concept in a previous application, the surprise hit Koi Pond ( ).
Each time you open Distant Shore, you begin at your hut on the beach. There's no avatar representing you on the screen, though your footprints do appear in the stand as you tap the screen to the left or right as you continue down the beach. As you walk along the beach, you search for seashells and bottles in the sand amongst umbrellas, beach chairs, piers and the occasional fire. You tap seashells and bottles to collect them. Although you pass chairs, umbrellas and the occasional pier, you are unable to interact with them in any way.
After you write a message and toss your bottle into the sea, you receive replies back at your hut, where a little turtle holds new messages in his mouth. If you decide not to reply to a message, you delete the message by tossing it into the sea. Distant Shore only holds eight messages and eight bottles at a time so if you need more space, you must delete old messages.
Distant Shore is a sort of Web 2.0 version of having a pen pal. The application presents an enjoyable at-your-own-pace experience that is completely different from the bevy of mash 'em up puzzle games available in the App Store. Distant Shore is a surprisingly fun distraction from business-as-usual on your iPhone or iPod touch.
Distant Shore is compatible with any iPhone or iPod touch running the iPhone 2.2 software update.
[Brendan Wilhide is a contributor to Macworld.com.]