Samsung Digital Imaging on Monday introduced the NX series, a new line of digital cameras the company calls "hybrid," for their DSLR-like design and features. The cameras are expected to hit store shelves in the second half of 2009.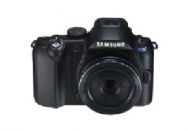 The NX series cameras use an APS-C-sized sensor — the same type of sensor that many digital Single Lens Reflex (DSLR) cameras use, but it does not use a "mirror box" for viewfinding. Instead, it employs an electronic viewfinder, which Samsung says enables the camera to be lighter and smaller than a conventional DSLR.
Pricing was not announced and Samsung's Web site had not been updated about the NX Series as Macworld posted this article.