Few headlines are as depressing as those announcing the yet another round of layoffs from yet another struggling company. On Friday, February 27, for example, Pilgrim's Pride announced it would close three chicken-processing plants, shedding 3,000 jobs. Alliant Techsystems announced it would cut 300 jobs. Mastercraft Boats said at least 110 workers would be let go.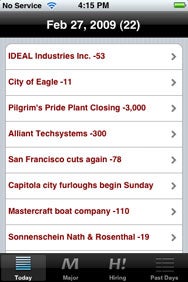 In all, I read about 22 companies or government agencies planning to shed employees through Santhi Rudraraju's Layoff & Hiring News—007 app for the iPhone and iPod touch. The app, which works with Wi-Fi, 3G, or EDGe connection, feeding a steady flow of headlines from the full-featured Layoff Daily Web site.
Layoff's simple but drab interface befits these austere times. The app is not much different from any other garden-variety RSS reader and is fairly easy to navigate. Tap on a headline, and Layoff will launch a browser window within the app. It features two days' worth of headlines, updated in real time, as well as a section on major corporate layoffs and news of companies that are actually hiring—the latter no doubt being an effort to stave off reader attrition by suicide.
The app can be slow to load headlines—a problem the developer seems to acknowledge with a "thanks for being patient" message that appears every time you tap a section on the menu bar at the bottom of the screen.
Bottom line: Layoff & Hiring News gives you all the bad news you can stomach (and some good) in a no-frills package. Xanax sold separately.
Layoff is compatible with any iPhone or iPod touch running the iPhone 2.2 software update.
[Ben Boychuk is a freelance writer and columnist in Rialto, Calif. Feel free to drop him a line.]