As time goes by, and our digital media collections grow, we need to ensure that we don't lose the music and video files that we've spent our hard-earned dollars (or, in the case of ripping our own CDs and DVDs, considerable time) on. Music, videos, and audiobooks can add up until your iTunes library fills your hard disk and then some. In addition to storing the original files, you have to make sure you keep backups, because in many cases you can't download such files again.
What do you need to back up?
Apple recently changed its policy, and now allows you to re-download much of the content you purchased on the iTunes Store as part of its iTunes in the Cloud functionality. You can get fresh copies of music, TV shows, apps, and books, but you can't currently re-download movies or audiobooks. And, in the categories available for download, you may not find everything you purchased.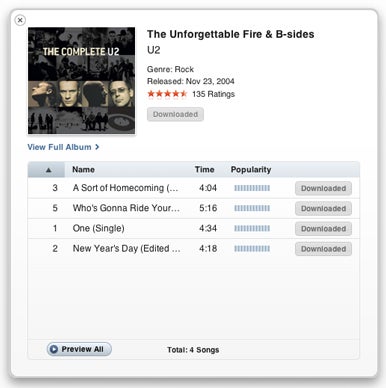 For example, I bought The Complete U2 digital box set in 2006, and when I view my Purchased list in iTunes (iTunes Store -> Purchased item in the Quick Links sidebar), I find only four songs from that 445-song set available (and from another album). This is the case for several albums that I bought; if they're no longer sold by the iTunes Store, you won't be able to get new copies. For this reason, you should back up everything and not depend on Apple's selection.
Depending on where else you bought your content, you may be able to re-download it. For example, eMusic has always allowed members to re-download music, and some other music sites might do so as well. If you buy audiobooks from Audible, you can also access your entire library, and download new copies of your books at any time. And if you've purchased music from Amazon MP3 and chosen to have it saved to Amazon's Cloud Player, you can re-download those songs at any time. But generally, if you buy music from a record label or band site, you won't have this option.
iTunes used to include a feature (found under File -> Library -> Back Up To Disc) to help you back up your library to DVDs. Unfortunately, this feature is MIA in the current version of iTunes. As I mentioned, there are many types of content that you can't download again, or that are no longer on the iTunes Store, so it's still a good idea to make full backups of your library.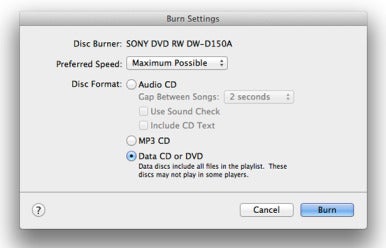 iTunes does still offer one backup option, however. Select a regular or smart playlist, control- or right-click on it, and choose Burn Playlist To Disc. In the resulting Burn Settings window, choose the Data CD Or DVD option and iTunes will burn the files in that playlist to a disc as a backup. This can be helpful to make sure you have backup copies of all recent downloads, say.
How to back up your iTunes library
If you use Time Machine to back up your data, you can simply allow Time Machine to back up your media library—assuming your library fits on your backup disk, and leaves enough room for your other files. If not, you may want to take a different approach. I have enough music and video files that Time Machine backups of all that content would take up too much space to be practical, especially as Time Machine will make new copies of any files if I've changed tags. So I back up my media library to an external hard drive on its own, and exclude both my iTunes folder and that backup partition from my Time Machine backup.
If you do use Time Machine to back up your iTunes library, here are a couple of tips. Since Time Machine backs up every hour, it may back up multiple versions of files while they're being downloaded. Depending on your Internet bandwidth, downloading a movie or TV show may take more than one hour, and the temporary files may be backed up several times, taking up space on your Time Machine drive. In addition, if you listen to podcasts, you may not need them to be backed up, as you generally don't keep the files. So, open System Preferences, click on the Time Machine icon, then click on Options. Click on the plus (+) icon, then navigate to your iTunes Media folder (by default, this is in/Music/iTunes). Add the Downloads folder to the exclusion list. If you listen to podcasts, and don't want to back them up, add the Podcasts folder as well.
If you want to back up your data to an external drive, without using Time Machine, there are many backup programs that can help you do this. Christopher Breen discussed backups earlier this year. And I recently described my belt and suspenders approach to backups.
Unlike the piles of CDs or even LPs that make up a music collection, and DVDs in your movie library, downloaded files can easily be lost. Back them up regularly so you always have your favorite music and videos—and not the heartbreak of losing your content.
[Senior contributor Kirk McElhearn writes about more than just Macs on his blog Kirkville. Twitter: @mcelhearn Kirk is the author of Take Control of iTunes 10: The FAQ.]