I would really love to be able to shoot video with my iPhone. That's what attracted me to ReplayCam 25shot!—an app from Tomohiko Okita that lets you create "movies" on your iPhone. Rather than recording real video, though, the app shoots a series of individual photos in rapid succession and then stitches them into a movie, much like a cartoon flip book.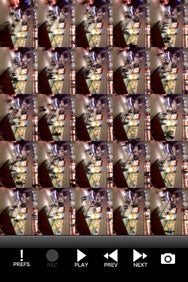 ReplayCam lets you configure the number of shots per movie and the time interval between them. For most of my movies, I selected 25 shots (the maximum) at a 0.2-second interval, which generates a five-second movie at 5 frames per second. Shooting a movie is as easy as taking a regular photo with the iPhone's built-in camera—just launch the app, tap the camera icon, then point and shoot. When you're finished you can use the Play button to watch your movie. (There are also buttons for pause, frame-reverse and frame-advance.)
When I shot my first 25-frame movie, I expected to find 25 photos in my camera roll. I was surprised to find a single 1,600-by-2,000-pixel photo divided into a 5-by-5 grid of 320-by-400-pixel images. When playing back a movie, the app reads these slices as individual movie frames. During playback, if you see a frame that you particularly like, you're able to save it as a standalone photo if you want.
Despite the very short recording time, low frame rate and lack of audio, I thought ReplayCam was fun for short, spur-of-the-moment, non-keeper movies. Obviously, it's no substitute for a real video camera.
This is a fairly new product, and there are a few improvements that I think the developer should address:
It would be great to able to record longer video. Even with the settings at their highest levels (25 frames at 3-second intervals), recording time maxes out at 75 seconds (and playback time is still 5 seconds.) And what you get at that frame rate can only loosely be called a "movie." (It's more like a "jerky.")
Audio support would be a nice feature.
Movies can only be viewed while they're stored on your camera roll. Once you sync the photos to your iPhone, the app will no longer open them. (I contacted the developer and this may be addressed in a future version.)
The only way to watch your movies is within the application. It would be nice to have the ability to save movies as iPod formatted video files so they could be played back independently and shared with friends.
While ReplayCam 25shot! is certainly not a "real" video recording solution for the iPhone, it still provides some simple movie-shooting fun, even if it's only five silent seconds at a time.
ReplayCam 25shot! is compatible with any iPhone with the 2.x software update.
[Brian Beam is a Drupal web developer living somewhere near Kansas City.]