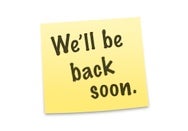 For the past few days, rumors circulating around the Internet have Apple planning to host a press event on or around March 24 with new hardware—iMacs, Mac minis, Mac Pros, and Cinema Displays—the order of the day. After all, it's been nearly two months since Apple last announced hardware, with Phil Schiller unveiling a 17-inch unibody MacBook Pro at January's Macworld Expo in San Francisco.
But on Monday, the tenor of the rumors changed. Several sites began claiming that we'd see new hardware of some sort as early as Tuesday.
Indeed, as of this writing, the Apple Online Store is in snooze mode and all visitors are being treated to the "yellow sticky of excitement" (yes, I just made that up right now) that we have come to know and love. Going by the existence of those rumors and it being a Tuesday today, I expect that we are mere hours (if not minutes) away from seeing the newly updated Mac desktops.
Or, you know, it could just be a maintenance thing. That would be fun too, right? Right? Oh well.