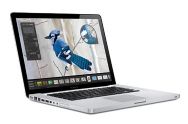 All the press releases and hubbub on Tuesday morning were about Apple's new revisions to the Mac mini, iMac, and Mac Pro, but not every Apple product revision makes it into a press release. (Though if you're a product trailing behind the Mac mini in terms of PR coverage, you may want to look over your shoulder and make sure your affairs are in order.)
In any event, Tuesday morning Apple also adjusted the specs on the 15-inch MacBook Pro, bringing it more in line with its 17-inch cousin. The top-of-the-line standard configuration of the 15-inch MacBook Pro now features a 2.66 GHz Intel Core 2 Duo processor, with a list price of $2,499. That's a slight boost from the previous 2.53GHz speed. And for those who crave the most power possible in a 15-inch MacBook, there's a $300 build-to-order option that will top out the system at 2.93 GHz, up from the previous top speed of 2.8GHz.
Note: When you purchase something after clicking links in our articles, we may earn a small commission. Read our affiliate link policy for more details.