With the introduction of revamped Mac Pros on Tuesday, Apple has also revealed ATI Radeon HD 4870 Graphics Upgrade Kit for Mac Pro. The graphics card will work both in brand new Mac Pros and in models built and sold since early 2008.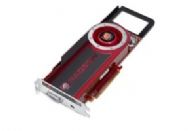 The Radeon HD 4870 sports one Dual-Link DVI interface — suitable for connecting a DVI-equipped monitor up to 30 inches, like Apple's 30-inch Cinema HD Display, and also comes with a Mini DisplayPort.
The card is designed to work in Mac Pros equipped with PCI Express 2.0 slots. That includes Mac Pros manufactured in 2008 and the new systems. Older Mac Pros will not be able to use this card.
Mini DisplayPort is the interface Apple favors on newer systems; it first debuted last fall with the introduction of Apple's 24-inch LED Cinema Display. DisplayPort is an emerging standard, and the Mini DisplayPort variation has recently been accepted by DisplayPort's governing body as part of the spec.
Apple indicates that the card comes equipped with 512MB of GDDR5 memory, and can accommodate two monitors simultaneously, so you could hook up a 24-inch LED Cinema Display (or another display using an adapter) plus a DVI-based display, up to and including the 30-inch Cinema HD Display.
The 4870 users newer-generation technology than ATI's Radeon HD3870 Mac & PC Edition, a dual-platform graphics card that the company offers via retail. AMD subsidiary ATI, manufacturer of the graphics technology, claims that the 4800 series card is twice as fast as the 3800 series — faster still than the ATI Radeon HD 2600 series cards and Nvidia GeForce 8800 series cards previously available from Apple for the Mac Pro.
As Macworld posted this story, Apple had not yet specified a price for the new card, which just appeared on the Apple Store on Tuesday. The card is a $200 build-to-order option for users buying a customized Mac Pro from the store, but that price is for the substitution of an Nvidia graphics card normally included with the system.
As a curious aside, the Apple Store also indicates that Mac OS X 10.5.7 is required for the card to work. That version of Mac OS X had not yet been released as the card debuted on the store.