We come before you today to celebrate the life of FireWire. With Tuesday's release of new Mac desktops, the port that has been a staple of Macs since the introduction of the Blue & White PowerMac G3 (one of which is still sitting under my desk at home) in 1999 is no more. You had a good run, FireWire—rest easy.
But, though FireWire 400 may be dead, its son and heir FireWire 800 is now clear to assume the throne of high-speed peripheral connections. The new Mac minis, iMacs, and Mac Pros each sport at least one of the high-speed connectors, with the Mac Pro having a brain-boggling four—two on the front, two on the back. So everything's great now, because thewhole Mac line-up is all FireWired up, right?
Well. Almost. Despite the fact that all of Apple's desktop line, from mini to Pro, features the blazing fast speeds of that young turk 800, two of Apple's notebook computers are completely bereft: the MacBook Air and the 13-inch aluminum MacBook. On the Air, that makes sense—as a computer, it's all about trade-offs, and FireWire was probably on the chopping block well before, say, the wired Ethernet port or a second USB port.
But the 13-inch MacBook is a head-scratcher. In most other respects, it's pretty comparable to its big siblings, the 15-inch and 17-inch MacBook Pros, resembling nothing so much as a MacBook Pro after a dryer accident. Really the only physical distinction between the models is size…and the 13-inch's lack of a FireWire port.
Some might argue that that differentiation is precisely the point: the lack of a FireWire port on the 13-inch MacBook keeps it from eating up sales of its more powerful brethren. However, while Apple doesn't routinely break out sales of different models within its lines, my purely anecdotal evidence (based on glancing around at the cafés I frequent) seems to suggest that both the MacBook and the Pro are doing just fine. Furthermore, I'm skeptical that the presence or lack of a FireWire port is a major factor in those purchases—if it is an issue, I'd say that it comes in well after other concerns such as displays, power, and weight and size.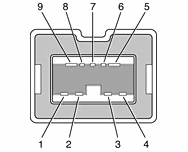 More to the point, if that differentiation between consumer and pro products is true, why doesn't Apple apply the same logic to its desktop line, where its policy seems to be a FireWire port in every home? To me, that backs up the suggestions that were adrift on the Internet in the wake of the 13-inch MacBook's unveiling: there just wasn't room for the necessary FireWire hardware inside the 13-inch enclosure. And, in fact, if you look inside the 13-inch aluminum MacBook, as the team at iFixit did, it quickly becomes apparent that there isn't much room to spare.
It also might explain why the company has seemed loathe to part with the 13-inch polycarbonate MacBook (the other part being the $999 pricetag that lets them brag that MacBooks start at under a thousand dollars).
I've been using a 13-inch MacBook sans FireWire for about five months now and haven't found myself wanting for FireWire. All my external drives have both FireWire and USB2.0 and my only digital video camera is a pocket-sized Kodak Zi6 that also uses USB. In that, I imagine I'm a lot like many of MacBook owners, most of whom probably don't miss FireWire very much either.
But I still like the option of having FireWire, and I'm not alone in that either. Knowing the way Apple thinks, I bet there's an engineer or two in the company who's just bugged by the fact that the MacBook doesn't have a FireWire port—it's the kind of thing that irks the sort of people that the company hires. For that reason, I wouldn't be surprised to see a 13-inch MacBook with FireWire make an appearance in the future—hardware, after all, is always getting more compact. And along with it, expect the accusatory howls from many consumers over the perceived purposeful slight.
But at least then Apple will be able to live up to its pledge of one product line under Jobs, indivisible, with liberty and FireWire for all.