PopCap Games has announced the Mac release of Peggle Nights, a sequel to the company's casual game phenomenon. Peggle Nights costs $20 and is available for download as a demo.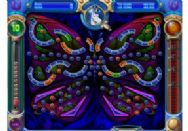 Peggle plays as a cross between pinball and pachinko — your goal is to make pegs disappear by hitting them with steel ball shot from a cannon at the top of the screen. Simple game play mechanics, cute graphics and a bouncy soundtrack made the original Peggle a huge hit for PopCap — it's been ported to numerous platforms.
The new Peggle Nights features 60 all-new Adventure Mode levels and 60 new Challenge Mode hurdles, along with a new "Peggle Master" powerup, new kinds of style shots, achievements and other special bonuses.
This installment of the game takes players to the "dream worlds" of the eleven Peggle Masters they met in the first game. It also features support for downloadable expansion packs; next month PopCap will release a free Spring-themed 10-level bonus pack.
Peggle Nights is rated E for Everyone by the ESRB.
System requirements call for Mac OS X 10.4.11 or later, 512MB RAM, Intel Core Duo 1.66GHz or faster.