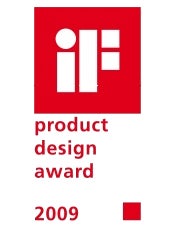 That Apple's products are well-designed isn't really news to anybody, but it's always nice to see the Cupertino folks getting their due from their peers. So we imagine the design team at 1 Infinite Loop is pretty pleased that their products took home four separate iF product design awards handed out by iF International Forum Design.
The iF awards have been around since 1954 and are among the most prestigious commendations in the design community. Out of the thousands of products that are submitted, a few hundred are recognized, with even fewer receiving the coveted iF gold award. This year, of the 50 iF gold awards handed down, Apple netted four, for the iPhone 3G, second-generation iPod touch, fourth-generation iPod nano, and the MacBook Air, in the categories of Telecommunicatinos, Audio/Video, and Computers. As a company, Apple itself is also ranked second in both iF's creative and company categories, trailing only Samsung.
Other products recognized with a gold award included Sony's Cyber-shot DSC-T700, the Sonos music system, the Volkswagen Golf, and everything from fingerprint scanners to dining room chairs. Perhaps the most terrifying, however, was this dentist's chair. Now there's something that could use an iPod dock.
[via setteB.IT]