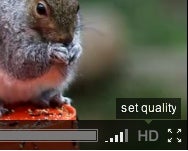 When it comes to the Internet, Flickr may be synonymous with photos, but the online photo-sharing site branched out to videos in April 2008, to the commingled cries of joy and outrage from its paying userbase.
Now the devious Web site has struck again. On Monday, a post on the Flickr blog announced that the site was opening up video uploads to those members holding free accounts; they can now share two videos a month. Better yet, members can now watch HD video—previously, they could only view those videos in standard definition, which, to be honest, is lacking a little something in the "I can see your pores" department. The 90-second limit on videos remains, however, so whatever you want to say, you'll have to be brief.
While the Flickr team was busy adding video for free members, they decided to throw in a little something extra to boot, so they abolished the three photoset limit for free members. As a result, all was right with the world.
Free users looking to take advantage of Flickr YouTube-ification will need to snag the new version of the free Flickr Uploadr program, which supports uploading video. Then you may upload until your heart is content—or until you hit that two video limit.