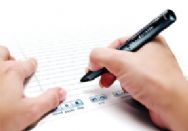 Ever since I first did a report on National Public Radio about the Livescribe's Pulse Smartpen, I knew that this was going to be a rather cool product—that is, once it came out for the Mac and I could actually use it.
Basically, it's a normal ballpoint pen with a built-in flash drive that allows you to record what you write or draw. Even better, when the pen is in use with the company's special paper (you can buy theirs or print your own) the pen will record whatever sounds (a business meeting, lecture, whatever) were going on at the exact time that it was writing that particular item. The pen is $150 for a 1GB model and $200 for the 2GB version.
It was nearly a year ago when I first saw a demo of the pen at Livescribe's Oakland offices. At that time, the company didn't have any Mac software out; Livescribe remedied that somewhat last November, when they issued an OS X-compatible public beta. Today, however, I'm really excited that the final version 1.0 of the OS X software is available for download for Intel Macs.
In a press release, the company says that Mac users will be able to "Export AAC audio file[s] to share with others, play in iTunes, or listen to on an iPod," as well as search for words in your handwritten notes and save your notes as PDF files that you can share with others.
This snazzy little writing tool also won a Macworld Expo Best in Show Award earlier this year and once I get one in my grubby little paws, it just might win my own Best in Hand award too.