Comic book geeks know that Wednesday is a special day—it's when the new comic books hit store shelves each week. And when Wednesday arrives, comiXology may be the handiest thing to have with you this side of Batman's utility belt.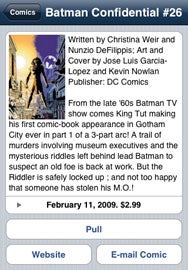 The free comiXology Web site lets you see what's new in the world of comic books; you can also generate a pull list of the comics you're interested in. With the iPhone version of comiXology from Iconology, you can take your pull list with you as well as enjoy easy access to other information about new comics.
The comiXology app for the iPhone and iPod touch gives you the ability to browse through all the comics that are shipping that week, placing the ones that grab your interest on your pull list. You can view your pull list, removing comics if needed. Each comic listing features a description, cover, and even a preview of pages for certain comics. The app also has sections that allow you to view featured items, previews, podcasts, and news from the comiXology Web site.
Not sure if comiXology should be your Wednesday sidekick? There's also a free lite version that lets you view shipping items, featured comics, podcasts, and news; comiXology Lite doesn't offer the pull list features, however.
ComiXology might not look or feel as polished as other iPhone apps, but it does the job. Some users may notice occasional crashes when attempting to browse comics as the app syncs. Syncing usually doesn't take too long, so waiting for that process to finish can reduce the risk of crashes. A future update may fix this bug.
Otherwise, comiXology is a pretty solid app that many comic book fans will find to be that one app they use the most.
ComiXology is compatible with any iPhone or iPod touch running the iPhone 2.1 software update.
[Jeff Whitfield is a web developer out of Dallas, working on the open-source MODx project.]