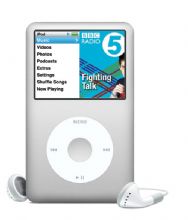 Being an American, I don't know much about soccer, which the rest of the world knows as football. But I do know that iPods are everywhere. Now, it would seem, these two popular world icons have finally found one another… on the soccer pitch.
Sunday Manchester United squared off against Tottenham Hotspur in the Carling Cup final. The game came down to a penalty shootout. Before Spurs took their penalty kicks, Man U. goalkeeper Ben Foster huddled with a coach and looked at video of past Spurs penalty kicks on an iPod. Foster attributes the iPod with helping him to make some key saves that allowed Man U. to escape with the victory.
Generally technology isn't allowed on the field, so some thought that Foster might end up in hot water. Luckily, soccer governing body FIFA says that no rules were broken and the victory stands.
I wish I could insert some clever soccer lingo to end this post, but I must admit I've never even watched an entire soccer match. I do like iPods, though. Doesn't that count for something? [Keep making admissions like that, McNulty, and you'll find yourself at the bottom of the table, desperately trying to avoid relegation! —Your soccer-crazed editors.]
Note: When you purchase something after clicking links in our articles, we may earn a small commission. Read our affiliate link policy for more details.