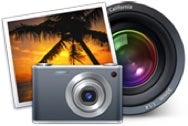 One of the big features of iPhoto '09 ( ) is the ability to upload images to Flickr, Yahoo's image-sharing site, directly from iPhoto. This is, undoubtedly, a cool feature. But I've been able to do it for ages, thanks to Connected Flow's most excellent plug-in for iPhoto (and Aperture), FlickrExport.
FlickrExport has just been updated to version 3, which adds a few new features and a great new slogan, "Better than built-in!"
I know what you're thinking: iPhoto's built-in Flickr uploader is free, as is the official Flickr uploader, so why should I pay for FlickrExport 3? Simply put, FlickrExport is better than either of them.
If you're going to upload a picture to Flickr from time to time, then save your money. But if you upload lots of pictures to Flickr, FlickrExport is well worth the pounds sterling.
New features in version 3 of both flavors include:
Sorting your photosets before you upload them to Flickr
Importing GPS information quickly and easily, plus a way to enter GPS info by hand (with presets, too!)
Adding photos to multiple groups
FlickrExport 3 for iPhoto costs £12 while the Aperture version costs £14. Upgrades for both are available at half price if you bought the previous version before January 1, 2008, and free if you bought after that date.