One of the most interesting improvements to the new Mac mini models announced Tuesday is that the mini's single FireWire 400 port has been replaced by a faster FireWire 800 version. In addition to an increase in performance, this change effectively signifies the death of FireWire 400 in Apple hardware. (OK, so the low-end, previous-generation MacBook still has a FireWire 400 port, but Apple's "new" hardware is FireWire 800 Or Nothing.)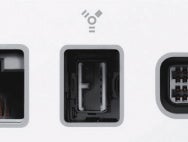 Although some people—my colleague Rob Griffiths included—are using this as an opportunity to pay their respects to FireWire 400, and others have speculated on what this change means, more than a few Mac users are worried that the mini's new FireWire 800 port has made their older FireWire 400 peripherals obsolete.
Fret not. FireWire 800 is backwards compatible with all FireWire 400 peripherals. All you need is a way to connect those peripherals to the newer port. The solution can be found in any of a number of inexpensive cables and adapters. These have been around for quite a while; in fact, I wrote about a couple back in 2004. WiebeTech, for example, sells FireWire 800-to-400 cables for $11, and Sonnet sells a small, $15 adapter for plugging FireWire 400 cables into FireWire 800 ports. If even those products are too expensive, Monoprice.com offers FireWire 800-to-400 cables for as little as $4. Similar solutions are available for connecting 4-pin FireWire 400 devices to FireWire 800.
It's worth noting that if you've got both FireWire 400 and 800 devices, you should put your FireWire 400 devices at the end of your FireWire chain, connecting FireWire 800 devices directly to your Mac and to each other. Putting FireWire 400 devices in between your Mac and your 800 devices will reduce the performance of the latter.