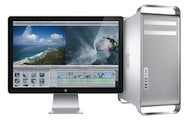 Well, who didn't see that coming? Mere days after I sang a song of praise for my newly purchased top of the line Mac Pro along comes Apple to refresh their entire desktop lineup, including the Mac Pro. The nerve of some computer companies!
Since I am a Mac pundit (if a minor one) people often turn to me with their Mac woes; it just goes with the nifty "pundit" business card and corner office. Writing about your latest Mac purchase as a mildly popular Mac pundit is tough because inevitably someone points out that you've wasted your money on a Mac that is doomed to obsolescence in X number of days (in my case my Mac Pro went from the fastest Mac on the planet to outmoded in 50 days).
Some have asked me if I regret buying my Mac Pro when I did, since it was clear to everyone that a faster model was coming out any day now. The simple answer is no. Crazy talk, right?
Here's a dirty little secret about computer buying, Mac or PC: as soon as you unbox your brand new computer, it's out of date. Apple is working on new Macs all the time; Intel is coming up with faster processors; memory manufacturers are creating faster RAM; hard drives are swelling to brobdingnagian capacities overnight. No matter when you buy a Mac I can assure you that had you waited a while you could have gotten a better machine for a lower price.
The obvious solution is simple: never buy a computer.
Read more…
Okay, that probably won't work for most of you, so what advice can I really give someone in the market for a new Mac? The best time to buy a new Mac is at the precise moment when you need one. I needed to get myself a Mac because I was changing jobs and would soon need to return my work Mac to its rightful owner. Even if I knew, with absolute certainty, that a revamped Mac Pro would be coming out in eight weeks I still would have bought the Mac Pro. A hypothetical Mac has many awesome features, but a real Mac is far easier to type on (ever try typing up a blog post using an imaginary super Mac? Ain't as easy as it sounds!).
Ok, so now you know the best time to buy a Mac, but which Mac should you get yourself? This, too, is a profound question with a simple answer: as much Mac as you can afford. Sure, I bought a honkin' fast Mac Pro, but there was just a tiny bit of method to my consumer madness (plus somebody needs to help the economy keep rolling): the beefier the Mac, the longer I can use it. The longer I use this Mac Pro the less it costs to me, over time. Simple. All you need to do is figure out if you want a desktop or a portable, think about what you'll be using your Mac for, and how much you want to spend and the answer becomes clear. Oh, and always remember when in doubt, buy the faster one. This isn't rocket science, people.
There you go, I'm still pleased as punch with my new Mac Pro and I wouldn't change history even if I could. Plus, thanks to the new Radeon 4870 graphics card, which Apple will be selling as an upgrade for last gen Mac Pros, I'll be able to run that sweet Apple LED Display that is currently acting as a very shiny, and expensive, paperweight on my desk. McNulty wins again!