At last count, the App Store featured roughly 6 billion different to-do apps available for the iPhone and iPod touch—one for every member of the human race, seemingly—with each app trying to outdo the others in the race to build a better checklist. On the other end of the productivity spectrum, you'll find a few clever apps inspired by David Allen's Getting Things Done methodology, perfect for those of us who want to maintain complete control over every single move we make in life.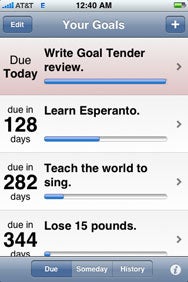 Somewhere in between sits Goal Tender from roobasoft, which combines the simplicity of a to-do list with some of the big-picture scope of the hardcore life-management apps. Launch Goal Tender and enter brief descriptions of your goals. You can assign due dates, create repeating goals, or file goals under Someday for later attention.
Once you've set some goals, your job is to review them regularly. Goal Tender includes a few valuable monitoring tools. A slider control lets you update your progress in percentages, and you can add journal entries to document what you did on the road to success. Completed goals get archived, and all of your data can be synced to goaltenderapp.com, where you can create an iCal feed for your goals. The developer promises more advanced online features in the future.
The app is easy to use, although it could use some documentation. The ability to create "parent" goals for finer control of your ambitions is a key feature, but setting them up isn't entirely obvious to a first-time user.
Goal Tender goes a step beyond the everyday to-do app to keep you motivated and on track—without having to consult a productivity guru to make sure you're doing it right.
Goal Tender is compatible with any iPhone or iPod touch running the iPhone 2.1 software update.
[Tony Craine is a freelance writer, playwright, and voice actor in Chicago.]