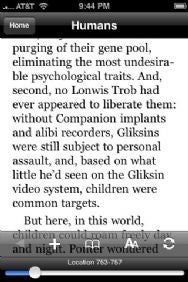 Amazon.com released Kindle for iPhone late Tuesday night, providing iPhone users with the ability to read more than 240,000 Kindle-formatted books from Amazon's e-book library. It's a free download from the App Store.
Here's what Kindle for iPhone does: You can access all the Kindle e-books in your Amazon account, downloading and storing them on your iPhone or iPod touch for later reading. (Just enter in your Amazon user name and password to link your iPhone to your Kindle account.) The Kindle app will also sync your place to Amazon's servers, allowing you to switch between the iPhone and Kindle hardware without losing track of where you are.
There are some catches, however: According to Amazon, Kindle for iPhone supports only books, not newspaper or magazine subscriptions. You also can't buy books directly from the app, but must use Amazon's web site or the Kindle hardware.
Still, for avid book readers without a Kindle, this new app will vastly increase the number of books commercially available on the iPhone. And Kindle users will appreciate the ability to read their books (but not periodicals) on the go, even if the Kindle isn't available.