Western Digital (WD) has announced an 8 terabyte (TB) version of its ShareSpace network storage appliance. It's priced at $1700.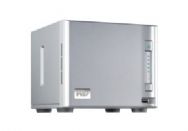 The ShareSpace is a four-bay storage system equipped with Gigabit Ethernet. It can be configured in RAID Level 0, 1 and 5 arrays and is UPnP and DLNA-certified, making it compatible as a media server for Xbox 360 and PlayStation 3 game consoles, among other devices. It features an iTunes server for centralized music sharing on both the Mac and PC, but can also work as a networked storage system for Macs and PCs. WD bundles "Anywhere Backup," a network backup and archive application, as well.
Inside the device are four 2TB WD Caviar Green hard disk drive mechanisms. "Green"-branded hard drives from WD consume less power — up to 33 percent less power, according to the manufacturer.
It has a USB 2.0 port mounted on its front that lets you plug in another hard drive; a button will automatically transfer all of the data on that drive to the ShareSpace. WD's "MioNet" remote Web access service lets you access the device from anywhere, and the download manager supports FTP and HTTP connections. There are three USB 2.0 ports for further expansion.
The ShareSpace also comes in 2TB and 4TB configurations.