TechRestore is offering a matte finish screen replacement service for 13-inch "unibody" MacBooks. The service costs $200.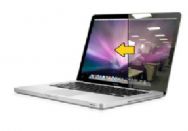 The service is intended for MacBook users who have found that the glossy screen of their system isn't what they were looking for. The service is more elaborate than an anti-glare cover: TechRestore removes the glossy, glass screen cover and replaces it with a matte-finish screen.
The resolution, color depth, LED backlighting and all other attributes of the display remain the same. A custom black bezel is installed around the edge of the screen that matches the MacBook's finish.
TechRestore guarantees a 24-hour turnaround time for the service. The price includes installation, free return shipping and a 1-year warranty on parts and labor.