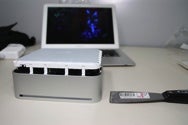 Tuesday's announcement of the new Mac mini prompted some discussion amongst the Macworld staff: while many of us thought that the specs on the low-end $600 model seemed pretty solid, we were unanimous in our agreement that the $200 increase for the higher model was the opposite of the bee's knees—the sloth's nose, perhaps. For that price, an additional 2GB 1GB of RAM and a bump to a 320GB hard drive is a little ridiculous when you can probably buy the components for much less—that is, if you're willing to do the upgrades yourself.
The mini can be annoying to take apart—I know, I spent some time upgrading a Core Duo model, and I got pretty well acquainted with a putty knife (I can now bullseye my dartboard from twenty feet). We wondered if the new mini would be more, less, or roughly equal to its predecessor in disassembly difficulty?
The folks at Macminicolo.net, a Las Vegas-based co-location company that—you guessed it—uses Mac minis, got themselves one of the new models and tried their hands at taking it apart. Their verdict? While it's not substantially more difficult to take apart than earlier Mac minis, there are some changes to be on the lookout for: Apple has apparently added a second AirPort antenna and removed a power cable that used to be on the front of the unit (possibly related to moving the optical drive to a SATA connection).
So, if you don't mind getting your hands a little dirty—metaphorically speaking, of course; we're sure the inside of the mini is as clean as the inside of Steve Jobs's featureless, white hibernation pod—it looks like upgrading the RAM and hard drive on a new mini isn't too much of an ordeal.
[via Gizmodo]