The following article is reprinted from the Today@PC World blog at PCWorld.com.
One of just a few new cameras announced during the Product Marketing Association (PMA) conference this year, the slim Casio Exilim Zoom EX-Z29 is an entry-level addition to Casio's point-and-shoot line.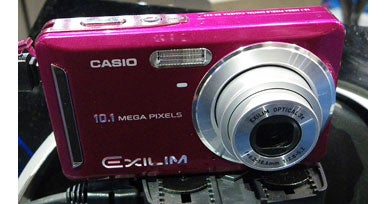 With a 10-megapixel sensor, face detection, 23 shooting modes, digital image stabilization, a simulated wide-screen movie mode that also optimizes clips for upload to YouTube, and a 3x optical zoom (37.5mm to 112.5mm), it offers a decent feature set for the bargain-bin price of $150.
Perhaps more importantly for potential buyers in today's brutally fashion-conscious world, it comes in five colors: black, silver, blue, pink, and purple. The Exilim EX-Z29 is scheduled to become available in April.