After you've purchased and installed several apps for your iPhone or iPod touch, you realize that certain developers seem to have an intuition on how to design their applications to make the most of the iPhone interface. Others, not so much. Tags—an application from omz:software that gives you access to the Delicious Web service—is one of the former.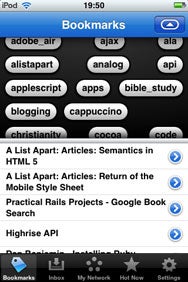 Similar to apps like Things ( ) and Tweetie, the power of Tags lies in it well designed interface. Actions the user may take with their bookmarks are easy and intuitive and never more than one tap away.
For Delicious users, Tags is a great way to have full access to your bookmark library all wrapped up in a nice iPhone front end. The full functionality of the Web service is available in this application—you can add new bookmarks and edit existing entries while also having access to use other Delicious functions like your Inbox and Network. And like some iPhone apps, Tags also comes with a built-in browser for viewing your links while giving you the option to open each page directly in Safari.
And after you've synced your library for the first time, you can access it even when not connected to the Internet. Online or off, Tags is a great way to work with your bookmarks.
Tags is compatible with any iPhone or iPod touch running the iPhone 2.1 software update.
[Chris Bowler tinkers with software way too much and writes about it at The Weekly Review.]