Peculiar Minds describes Memo Book as "an iPhone application that allows you to record memos and organize them using labels." That pretty much sums up this productivity-focused offering for the iPhone and iPod touch—its premise is basic and so are its features.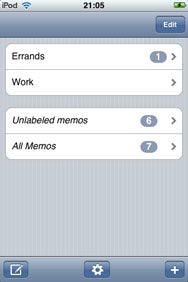 Memo Book consists of two main screens: one for your labels and one for the memos themselves. Adding a new memo is straightforward, as is applying labels to a memo. Each memo can be assigned to one or more labels. The labels screen gives the user the ability to view all memos assigned to a certain label. Additionally, Memo Book also comes with two pre-built smart labels—All Memos and Unlabeled Memos.
Overall, Memo Book is simple. Unfortunately, the interface is not all that intuitive and it takes a few minutes for me to get accustomed to the layout. In fact, figuring out how to delete an existing memo also took me more than five minutes to deduce—that's much too long for such a basic tool.
If you are simply looking for a replacement for Apple's own Notes app, Memo Book is a decent option. Its quick-note entry and label-based organization are suitable for that type of usage. Anything more than that, and you may want to consider a more robust app.
Memo Book is compatible with any iPhone and iPod touch running the iPhone 2.2.1 software update.
[When not writing about software, Chris Bowler spends his time lurking on Twitter.]