Sometimes it's the simplest ideas that work out the best. iDracula, a medieval-themed third-person overhead shooter for the iPhone and iPod touch developed by MoreGames Entertainment and published by Chillingo, may be the best example of this. The plot is simple: players must use any weapon available to them to fend off waves of increasingly difficult hordes of undead monsters.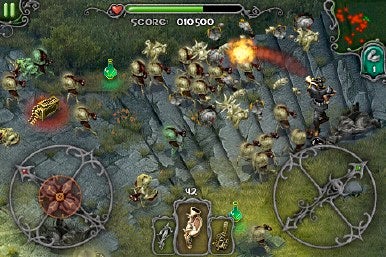 While this isn't the most intricate idea, iDracula takes what's there and does it well. The end result is an admirable "run and gun" game in the vein of arcade classics such as "Smash TV", "Gauntlet" and "Robotron" where you grab any weapons, ammo and health potions you can in order to stay alive.
You earn powerups at various intervals that imbue you with new abilities like Ninja (better blocking against attacks), Telekinesis (dropped items will float towards the player), Bandage (a one-time instant health recovery), Crossbow Master (simultaneously fire three crossbow bolts instead of one), Power Striker (bullets will push enemies back further) and Bonus Finder (enemies become more likely to drop additional ammo and health potions).
You can take on the undead in two modes, "Survival" (where you face increasingly-difficult waves of enemies and can grab power-ups and perks) and "Rush" (where you begin equipped with a minigun and infinite ammo and must survive a never ending wave of werewolves charging at you).
As the game progresses, you will have to select options and weapons that will help you survive in both the short and long term. A shotgun or crossbow might hold off certain enemies, but some enemies are more susceptible to specific weapons. Part of the strategy of iDracula is to master running to an empty section of the level and switching over to the best weapon for the situation.
MoreGames did their homework and it shows. Although iDracula uses the same top-down visual perspective at all times, the level of detail on the models and the overall frame rate is impressive; this is an action game and even with dozens of monsters simultaneously charging towards your character, the frame rate is almost universally smooth. A driving metal beat keeps the energy up and character and item sounds are second to none, creating an immersive environment to slay the undead.
And this is the joy of the game. Strategy and items aside, iDracula begins slowly as you fend off the occasional werewolf with a musket, and then radically accelerates to almost overwhelm you with wave after wave of enemies. If an improved weapon such as a shotgun or grenade launcher appears, you can immediately grab it with the hope of holding off the next group of enemies trying to kill them. Stay alive long enough and the tide can be turned, usually with a large enough weapon, especially that minigun.
You can adjust audio levels and swap the control wheels between the left and right thumbs, and collectible runes throughout the game add a rank system that makes the game fun to replay.
Unfortunately, there are a few wrinkles to iron out. The game crashes on occasion and can sometimes pause in the middle of gameplay to load new content. Even so, the game can pick up where it left off upon reopening the application, reloading the level at the exact moment of the crash.
These criticisms aside, iDracula is one of the most fun games I've had a chance to play on the iPhone and almost can't be put down. The title stands on par with anything offered for the Nintendo DS or Sony PSP, has incredible room to grow into something even better with a few updates and the inclusion of Wi-Fi-based co-op multiplayer gameplay and I can't wait to see what happens in the future.
That being said, I've got werewolves to mow down with a minigun.
iDracula requires iPhone OS 2.0 or later to install and run.
[Chris Barylick is a frequent contributor to Macworld. His undead apocalypse survival plan currently consists of offering the monsters Twizzlers in exchange for his life. Because everyone likes Twizzlers.]